St. Mark's strives to help children realize their potential not only as learners, but also as members of a community. Faculty mentoring, counseling, Christian education, and chapel services serve to promote strong values and respect for self, others, and the community.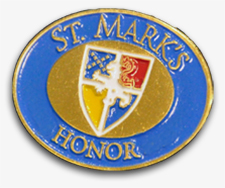 Starting with the prayer leader in Pre-Kindergarten and progressing to our eighth grade Student Council president, St. Mark's instills in our students the qualities of leadership, self-confidence, organization, compassion, and empathy. Whether reading at Eucharist, explaining a solution to a math problem, peer editing a classmates' essay, or organizing a playground pick-up game of soccer, our students are empowered to positively contribute to their school community.
LOWER SCHOOL
Character education and leadership development begin in the primary grades. Our homeroom teachers, trained in creating community, foster their charges' fledgling character and leadership traits through classroom jobs, cooperative learning, role-playing, and morning meetings – all with the goal to let student voices be heard. Our Dean of Students, Cyndi Slater, LCSW, conducts classes in Lower School on issues such as kindness, friendship, telling vs. tattling, etc. She also works with students individually or in small groups. Our Dean also serves as a consultant to teachers and parents, providing information about meeting students' academic and emotional needs. St. Mark's character education curriculum includes developmentally appropriate, research-based programs, such as Conscious Discipline and Superflex. These social, emotional, and behavioral programs are both preventive and responsive.
MIDDLE SCHOOL
Character education continues in the middle school when students attend annual retreats, sign the school's honor code, deepen their religious studies, and bond with an advisory group. Speakers from our "Conversations on Character" program engage students in developing their own personal code of ethics. In middle school, our students blossom into young leaders with participation in activities such as, National Junior Honors Society and Student Government. Commitment to character education and leadership is one of the advantages of a small, independent, faith-based school, dedicated to its mission.